Take care of your Inspiration so that it can take care of you!
Silent Diving offers a complete range of servicing options from the electronics to all the chassis components.Our service form will give you a guide to our service pricing, but if it is any more than the stated price, we will provide a detailed assessment.

Many of our local dealers also offer chassis servicing. Contact us direct to see if your dealer is a certified service center.

Depending on your geographical location, we offer services in both our Canada and Florida locations. In many cases, we will send electronics direct to the UK factory for service and evaluation. This enables you to make upgrades to the latest electronics features at any point during the servicing process.
We offer comprehensive servicing for all our products from cylinder valves to rebreather electronics. We follow our 'Servicing Guidelines' when assessing the cost of repairing and servicing your equipment. These will give you a good idea of what charges to expect. However, each item is individually evaluated and before starting any work, we'll contact you if we think the cost will be higher.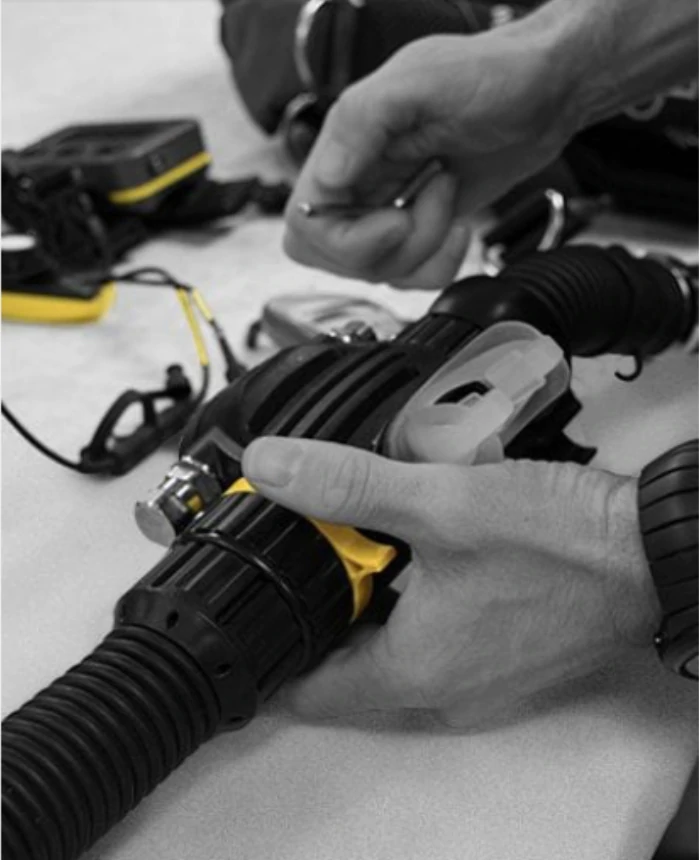 Get Started & Download Our Service Form Today!
Is your gear in need of repair or has reached a service interval? Please send it back for servicing with the completed service form available below. If you have any questions or concerns about an upgrade or service, don't hesitate to reach out to our service team.
The Importance of Regular Maintenance
Your Inspiration is your life support underwater. It will do all it can to take care of you, but you need to take care of it. Regular servicing is the best way not to miss dives because your gear is not working correctly.

Cells are a consumable, which has a limited life span. You should consider replacing your cells every 12-15 months. Even if still working correctly,the cell must be replaced at 18 months old. If you are uncertain of any variations in readings from your cells during a dive, you can download the log from the dive and email it to Silent Diving for evaluation.

Maintenance is an ongoing task with all rebreathers, and users must check for proper operation before every dive.
When to Service your Gear
Not only is it important to service your equipment regularly, but as we get older, so does the components that make up your unit. These components have a life span and have to be replaced during the life of your unit.
Electronics
Cell Replacement
Standard Mouthpiece Or OCB
Manual Inflators
ADV Automatic Diluent Valve
First Stages
Cylinders VIP
Hydrostatic Cylinder Testing
Replace Oxygen Hoses
Replace All Diluent Hoses
Convoluted Hoses
Counter Lungs Inner Bags
Wing Inner Bags
As the exclusive distributor of AP Diving products in Americas', we look forward to serving you. We're happy to hear from you whether you have a product question, a sales question, a distribution question, a maintenance question, or a general inquiry. How can we help you today?
Discover Our World-Class Inventory of Diving Gear and Accessories
Looking for diving gear? Browse the complete catalog of AP Diving rebreathers online in the Silent Diving store! You'll find:
In addition, we're your easy, reliable source for exposure suits, booster pumps, analyzers, dive computers, gas-filling accessories, gas-connector systems, scooters, dive lights, service kits and much more! Our friendly team is here to help you find what you need, answer product questions and complete orders. How can we help you gear up for your adventure today? Shop now!